"Jiangsheng" Brand Traumatic Antitoxin won the first "Jiangxi Boutique" and "Jiangxi Famous Brand Product" in Jiangxi Province
---
Gan produces high-quality products and famous brands
---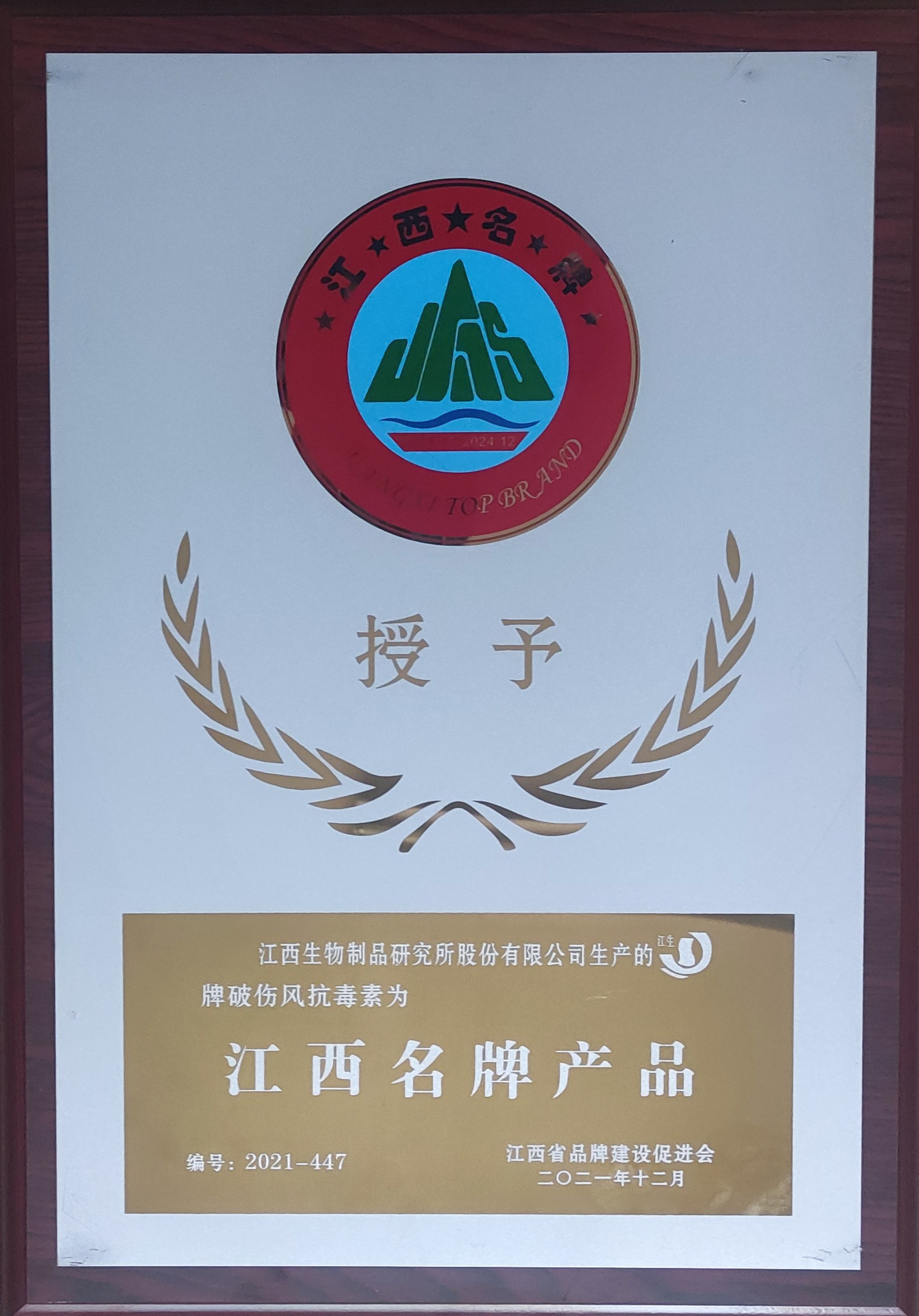 Good news: "Jiangsheng" brand damage antitoxin produced by Jiangxi Biological Products Research Institute Co., Ltd. has won the first "Jiangxi Boutique" and "Jiangxi Famous Brand Product" in Jiangxi Province. On January 9, 2022, under the guidance of Jiangxi Provincial Development and Reform Commission and Jiangxi Provincial Market Supervision and Administration Bureau, Jiangxi Provincial Brand Building Promotion Association hosted the 2021 Jiangxi Famous Brand Product Conference held in Nanchang, with Jiangxi Provincial Brand Building Research Center as the academic support. The company's products are among the top of similar products in the province with high production quality, large market share, customer satisfaction and popularity, and have been selected successfully from 850 candidates. The evaluation system mainly focuses on market evaluation, quality evaluation, benefit evaluation, development evaluation and social responsibility evaluation. In the selection, products with independent intellectual property rights and core technologies are given a proper preference. To lay a foundation for further promoting Jiangxi brand construction and leading high-quality economic development.
The company deeply excavates the connotation of the brand to improve its market competitiveness. With the mission of "making high-quality drugs for the global people", the company promotes brand strategy, cultivates famous and high-quality products, improves market share and brand influence, so as to effectively promote the high-quality development of the company's economy. By establishing and improving the brand, the company will build a production quality management platform, deeply tap the connotation of brand culture, and focus on talents, management, innovation, product marketing, etc,Improve the market competitiveness of the brand in an all-round way, and strive to build the whole production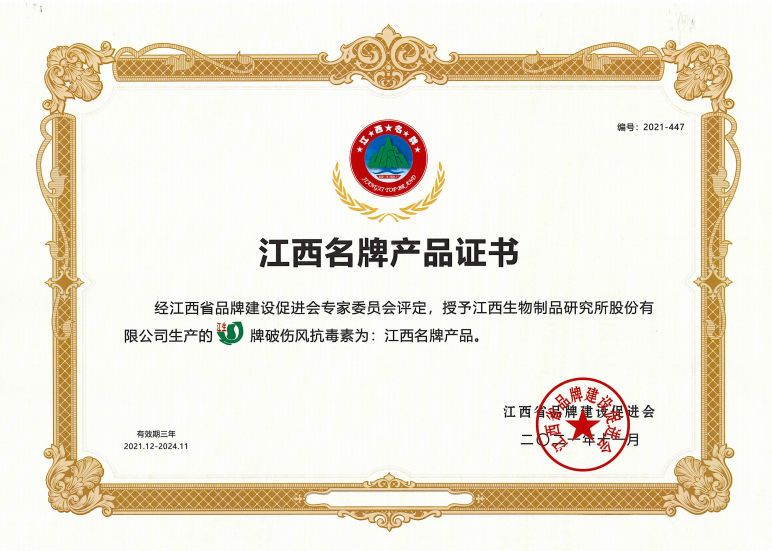 The quality infrastructure and brand one-stop system of the industry chain. On the road of brand building, the company will widely gather consensus and draw the largest concentric circle. Always implement the overall goal of "improving quality, expanding scale, seizing the market, being a leader, increasing benefits, and going to the main board", promote the construction of a new development pattern with Jiangxi's biological cycle as the main body, and the dual cycle of medical, aesthetic, and agricultural, livestock and veterinary drugs as the mutual promotion. Focusing on "the needs of the people" and "the needs of the patients", focus on product upgrading and scientific and technological innovation, sing "Jiangxi produces high-quality products", and lead "Jiangxi famous brand" with excellence, With the concept of high quality leapfrog development, we have made great efforts in the characteristic advantages of antitoxin and immune serum products. Promote the "demonstration, striving bravely and serving as a benchmark" to be more motivated, the staff to perform their duties more effectively, and Jiangsheng's image more distinctive. Strive to highlight Jiangsheng's responsibility, show Jiangsheng's achievements and make Jiangsheng's contributions in the new development pattern of innovation and excellence.